Williamsport to Clearfield, Pennsylvania
Branch Lines of the NYC and PRR

A HiRail Model Railroad
By
Herb and Dagmar Lindsay

.
The Pennsylvania Railroad and New York Central are my favorite railroads. I
wanted to build a believable Hi-Rail layout representing the era of
railroading that featured both of these railroads in a 25-feet by 26-feet
area. The area between Williamsport, PA and Clearfield, PA had branch lines
of both railroads and was the area I selected to model. The time period is
1955 allowing for both steam and diesel locomotives. In keeping with the
area the layout has small to medium size steam locomotives (2-8-0, 2-8-2,
4-6-0, 4-6-2, and 4-6-4) were chosen. I have tried to make the layout as
close to scale as possible and thus I have elected not to use any
accessories. The layout was begun in 1974 and is now approximately 90%
complete.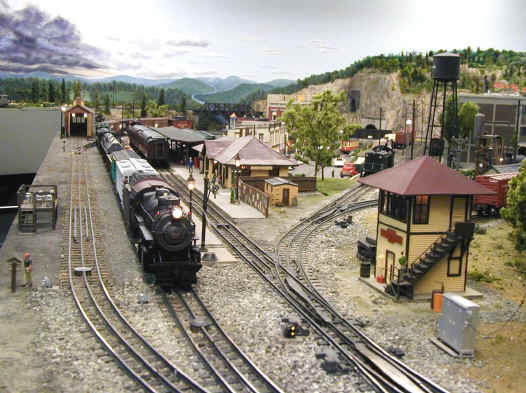 This picture shows an overall view of Clearfield from the tracks entering
the town. The gathering thunder storm and the rest of the backdrop were
painted by my wife Dagmar. A Weaver PRR 2-8-2 freight is waiting on the
outbound track. The small round cylinders in the third rail are uncoupling
magnets.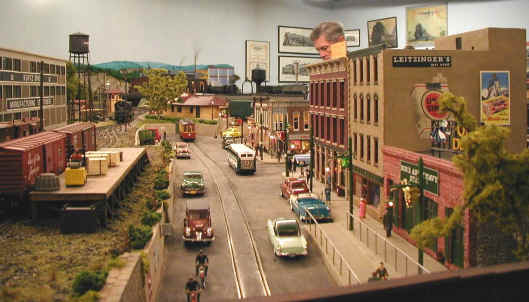 Looking down from the railroad bridge along Market Street, Clearfield can be
seen from the opposite direction. The street car runs on DC voltage with a
high frequency head light circuit that is on when the car is running or
idle.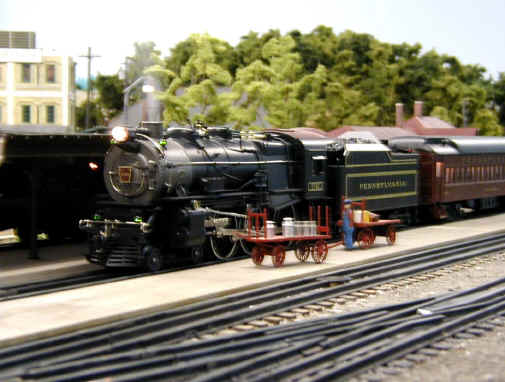 A MTH PRR G5 4-6-0 # 5740 has arrived in Clearfield with the afternoon local
from Williamsport. The cars were built from Walters 60 foot coach kits using
Lionel passenger trucks.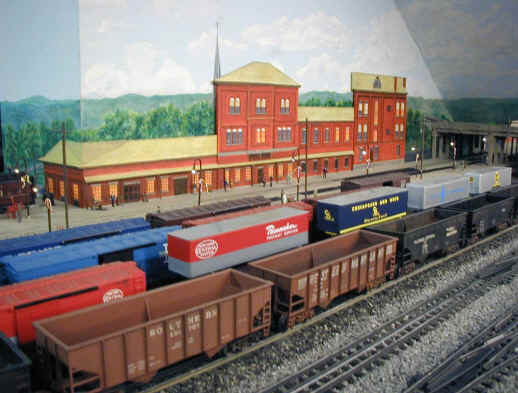 The station in Williamsport is a relief building made from varying layers of
Masonite. A number of photographs of the station were used to determine its
size and shape. Dagmar painted all the station's detail as well as the
backdrop. Christmas decorations stay up year round. The weathered coal
hoppers in the foreground are from Weaver.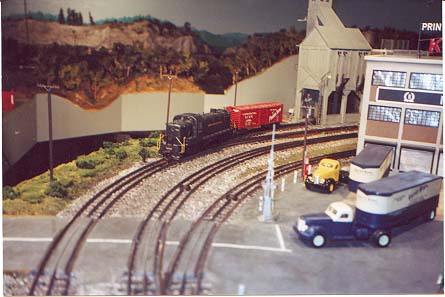 A Weaver RS3 with some extra details switches the industrial area of
Clearfield, PA. The coaling tower was built from a Suncoast kit.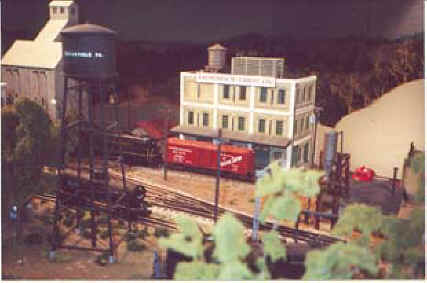 Here's a Lackawanna railroad box car being spotted at Clearfield's
Lauderbach & Griest wholesale grocery.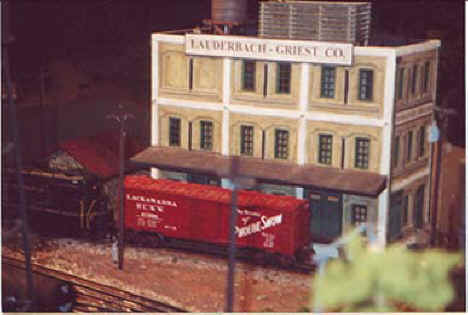 This is a close-up image of the Lackawanna box car in front of a Korber
Model's kit with scratch built loading dock, dock roof and cooling tower.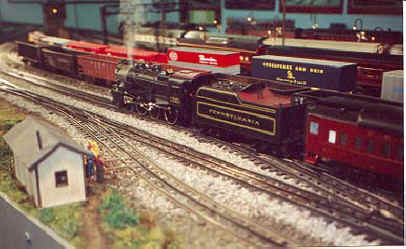 Two Pennsy employees standing in front of the shed watch the evening's local
heading east past the Williamsport yard. The motive power is an MTH G5
4-6-0.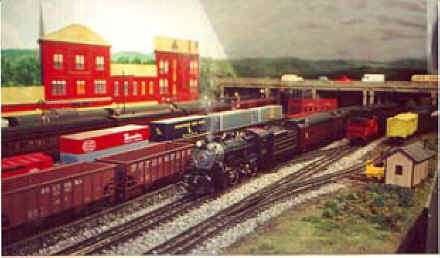 Heading west the Pennsy local with three passenger cars has just passed
under the Williamsport's Popular Street bridge.