National Railroad Historical Society
Pittsburgh Area HiRailers Event
Central New York
National Railroad Historical Society
Syracuse Train Fair
By
Jim Miller
t
The 26th Annual Central New York National Railroad Historical Society's (CNYNRHS) Syracuse Train Fair was held on November 4-5, 2000 at the fairgrounds in Syracuse, NY. The Syracuse Train Fair is the third largest train show in the Northeast (after York and Springfield). Like the NMRA Trainfest in West Allis, Wisconsin, but unlike most other train shows, the Syracuse Train Fair emphasizes displays and layouts more than vendors. There were multiple modular layouts in each of the scales G, O, S, HO, and N. There were numerous other stand-alone displays ranging from circuses to fire houses and fire engines. Also on display was a part of the CNYNRHS collection of prototype railroad equipment. There is a GG1, various passenger cars, and different types of NYC cabooses stored on tracks next to the CSX mainline that runs behind the Horticultural Hall where the modular layouts were displayed.
This year we set up a 32 by 100-feet long layout containing modules from three different clubs: the Northwest Jersey HiRailers and Raritan Valley HiRailers from New Jersey and the National Capital Tinplate Trackers from Virginia. Highlights of the layout included:
John Zampino's 20-ft. long model of the Hell Gate Bridge,

Fred Rominski's highly detailed small-town station scene,

Sam Mauro's still-under-construction, over-the-tracks big-city station,

Dominick Milano's operating Diamond Scale turntable, roundhouse, and engine house with engine-servicing facilities.
During the show we passed out a one-page flier that briefly summarizes the key specifications for building "Independent HiRailers" modules and referred them to the www.hirailers.com web site for more modular railroading information.
The Lehigh Valley HiRailers from Allentown, PA were also present with their smaller but exceptionally-well detailed 13 by 28-feet HiRail modular layout. Both the Lehigh Valley HiRailers and our group received comments such as "these are the best layouts in the whole show" and "if I had only known that such beautiful PRR steam engines were available in O-gauge, I'd never have gone into HO."
I hope that this experience will encourage other new or existing HiRail modular groups to seek out and participate at events like Train Fair and Trainfest. Because of their many layouts and other railroad displays, these events attract a broader spectrum of attendees than a local train show or summertime train club convention. By going beyond "preaching to the already-converted," we may interest more people in HiRail model railroading. Also a large layout with multiple modules and participants from various clubs demonstrates uniformity and provides the opportunity to run very long trains that most people can't possibly do on their home layouts. Seeing displays like those at this show will help to persuade others to get into HiRail modular railroading by starting their own modular group.
Photos of the Syracuse Train Fair of our modular layout taken by Bob Feneran are posted below.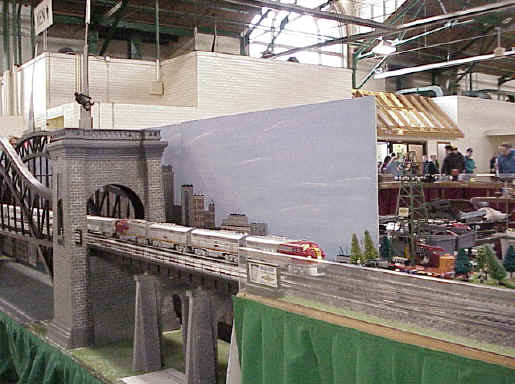 The Santa-Fe Super Chief is hustling into New York pulled by Bob Feneran's ABBA engine consist over National Capital Tinplate Trackers, John Zampino's 20-feet long model of the Hell Gate Bridge.
A MTH Santa-Fe SD70 rumbles pass Raritan Valley HiRailers Fred Rominski's Raritan Valley station modules with a heavy freight consist.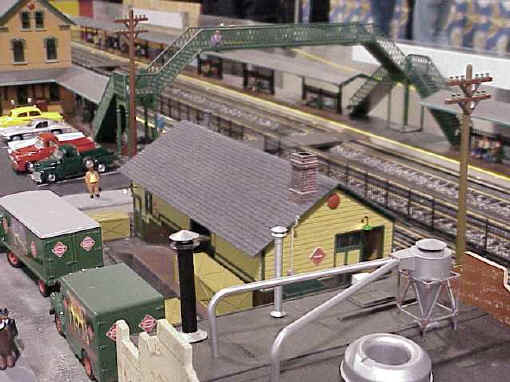 Here's another view of Fred Rominski's Raritan Valley station after the MTH Santa-Fe SD70 passed by.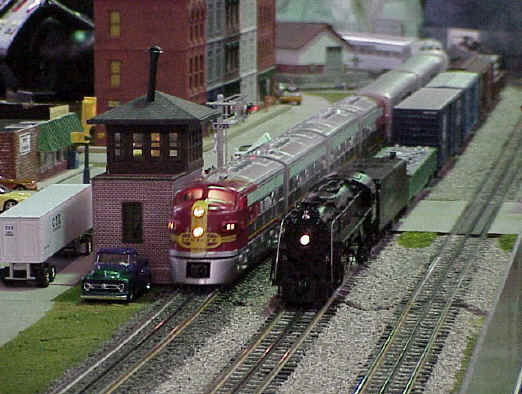 Santa-Fe's Diesel and Steam power is pounding the mainline pass Georgetown's track side switch tower on George Petrie of the Northwest Jersey HiRailers, module.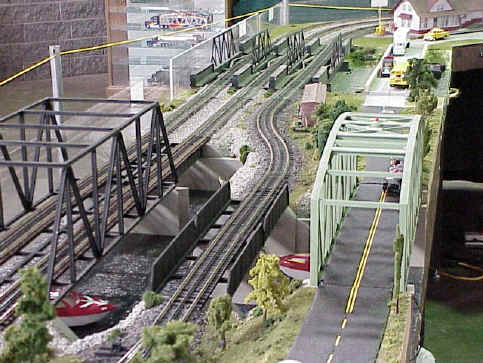 This two highly detailed modules with four bridges spanning Miller's river for rail and vehicle traffic were built by Jim Miller of the Northwest Jersey HiRailers.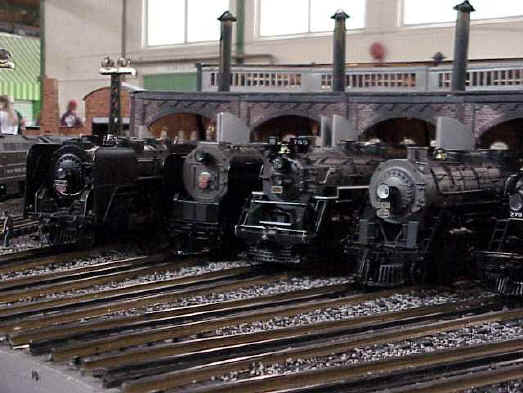 There is some heavy New York Central steam power all stoked up and ready to pound the high iron in this roundhouse roundup on Raritan Valley HiRailers, Dominick Milano's module.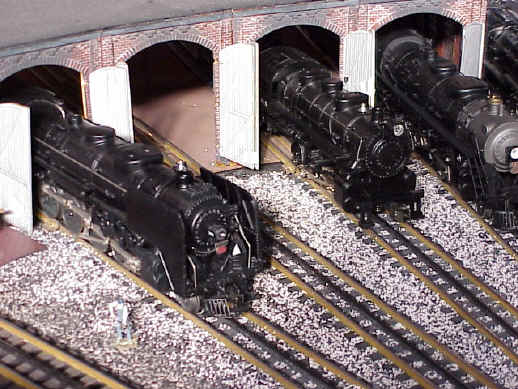 Here's more NYC steam power on Dominick Milano's module ready for service.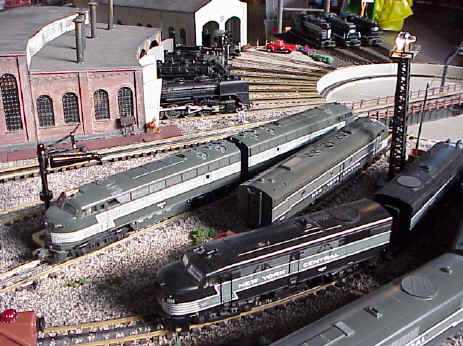 This partial view shows how massive this roundhouse, engine servicing facility module is that Dominick has built and this photo does not show all of it. This is an excellent example of what HiRailers are doing on their modules.
Pittsburgh Area HiRailers

HiRailing Outside

By

Thom Shepler

Last July, 2000 our HiRail modular group set up our modular layout display in front of J&J's Railroad Crossing hobby shop in Turtle Creek, Pennsylvania. The borough allows us to close off the street for the day and we set up a 16 by 56-feet modular layout in front of the hobby shop. We plan to do this again this July. If it just happens to rain we will set up at a large hall in town. For more information about this event please email Thom Shepler at

woowoothom@aol.com. The following are photos of some of the modules we had on display last year.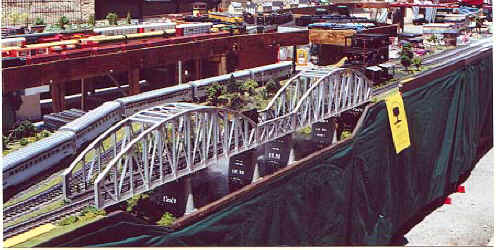 This two bridge module is 8-feet long and we call it "Smoke on the Water". Because we use real water and we are capable of simulating a fog mist coming from the water. It is owned by Tom Shepler and Jim Oravik.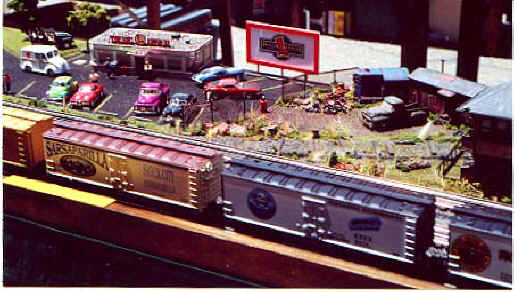 The detailing is excellent on the Diner and scrap yard module by Thom Shepler.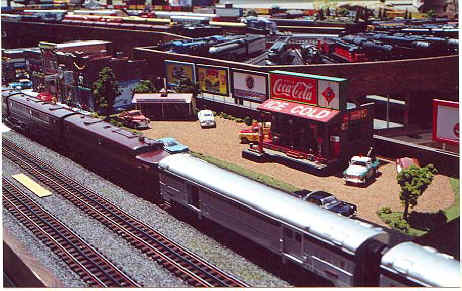 Thom's modeling expertise is shown again here in this Coca-Cola store module.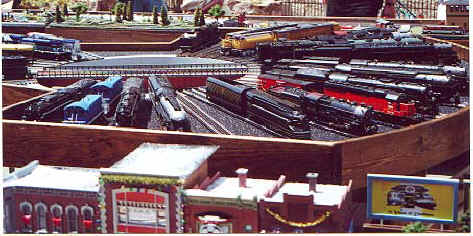 There's a lot of motive power stored on this turntable module at the end of the staging yard. This turntable module was built and is owned by Dave Neumann, Kurt Kissner, Jim Oravik, and Thom Shepler.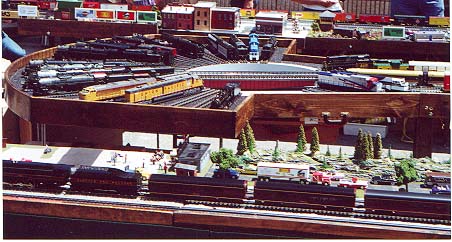 Here's another view of the turntable module. That's some great looking and innovative woodwork on this module!