We welcome module photos and stories postings. Contact the web master for instructions. jns@interaccess.com
Our History
By
Carl Person

The Delaware Valley HiRailers was originally formed in 1986 as the Delaware Valley Tinplate Trackers. We built our modules using Al Bailey's original Tinplate Trackers standards. When We began we were limited to working the Greenberg Train Shows, who supplied their 0-72 corner modules for us to use at their shows. This worked fine and allowed us to earn money to build our own corners and expand our modular layout. Early on we observed that the 40-inch height of our layout was too high for small children to see and was tiring for the parents who had to hold their children to see the trains. Subsequently, we lowered our modules to the 36-inch railhead height currently used by HiRail modular groups today.
In 1989 Steve Horvath joined us at a Greenberg Show held in conjunction with the national convention of the Lionel Operating Train Society in Baltimore, Maryland. Steve used Gargraves track on his module and installed a third track between the 8 1/2-inch spacing of the tinplate tracker standards. The inability of the K-Line Heavyweights to negotiate Lionel's 0-22 switches prompted us to convert all of our modules to the three track mainline and Gargraves track.
Today our modular layout, complete with scenic details, measures 28 by 48 feet. We now have eight 45-degree corner modules with track radii of 48, 50 ¼ and 52 ½ inches and we aspire to model and capture the essence of railroading with realistic scenery and detailing. For more information about our group please e-mail Carl Person at Carltrnfsh@juno.com Below is a couple photos of our modules.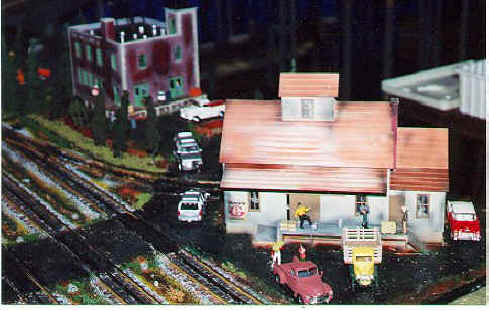 This module (Carl Person's) is built upon foam instead of plywood and features Walther's kits.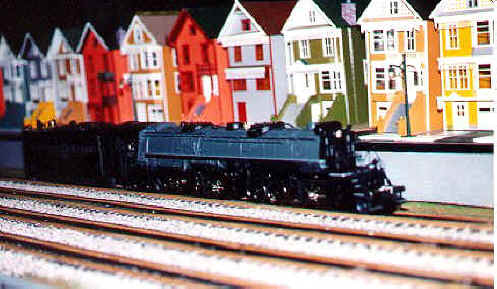 The MTH Yellowstone pounds the rails passing by kit bashed IHC houses on Neil Yerger's modules.

Railroading the Early Years

By

Steve Horvath

The idea of modular railroading started to gain a large following with the National N Scale movement and their modular specifications. I am not sure but most of the roots of modular railroading can be traced to this revolution in model railroading, including the Tinplate Trackers from which the HiRail modules evolved. Personally, I can only speak about HiRail modules as seen from my involvement over the past ten years. There may be similar HiRail groups around the country but I am not aware of where they may be.

The HiRail module concept actually started after my return from the 1989 national convention of the Lionel Operating Train Society (LOTS) held in Baltimore. The Delaware Valley Tinplate Trackers (DVTT) were scheduled to set up at the LOTS convention and they invited me to join them in Baltimore. I built two modules using the Al Bailey Tinplate Trackers standards supplied to me by the DVTT. They were constructed and detailed using Gargraves track and Right Of Way switches and featured a small Intermodal Yard using the then new Lionel Intermodal Crane as a theme. The track was ballasted and painted a rust color. There were operating signals for the turnouts and Tortoise switch machines controlling the turnouts and signals. These modules had a switch with a small storage track placed half the distance between tracks 1 and 2, which is the original two track mainline standard used by the Tinplate Trackers. The track spacing used on the modules was adapted from the Tinplate Trackers standard of 3 ¾-inches from the front edge of the module for track 1 and 8-1/2-inches to the center rail of track 2. This standard is still used today with the addition of a third mainline track halfway at 4 ¼-inches.

Upon my return from the convention in 1989, I decided to organize a group of hobbyists who had a similar interest in HiRail modular model railroading. Beside myself the first two founding members were Harry Jenkins and Tom Walsh. We agreed to build the modules based on the two I built for the LOTS convention. Harry built yard modules and Tom built the corners. The credit for the addition of the third mainline goes to Tom Walsh who drew it into his module specifications that we adopted. The first show we did as a group was in 1990 as the Raritan Valley HiRailers. This group is still operating.

Since then I have formed a second group named the Independent HiRailers. The HiRail movement has blossomed to include the Delaware Valley HiRailers, South Shore HiRailers, Independent HiRailers-Midwest Division, Packanack Train Club, Pittsburgh Area HiRailers, Northwest New Jersey HiRailers and the DC Area Independent HiRailers. There are other Independent HiRailers who have built their modules to the same HiRail standards and they join us whenever we are operating around the country. My thanks to all of them and I hope they are enjoying our great hobby. For more information about our group please e-mail Jerry Kimble at

Jerry.Kimble@gm.com Below is some photos of my Independent HiRailers group.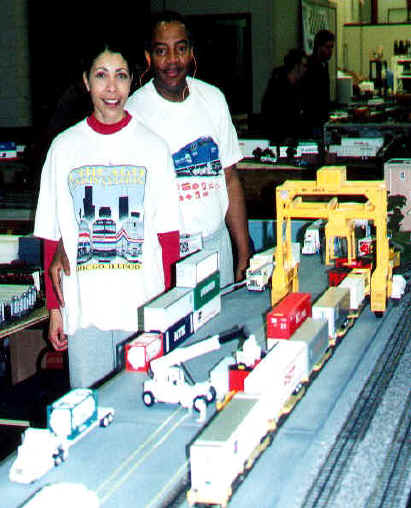 Here's Pat and Jerry Kimble standing next to their Intermodal yard modules.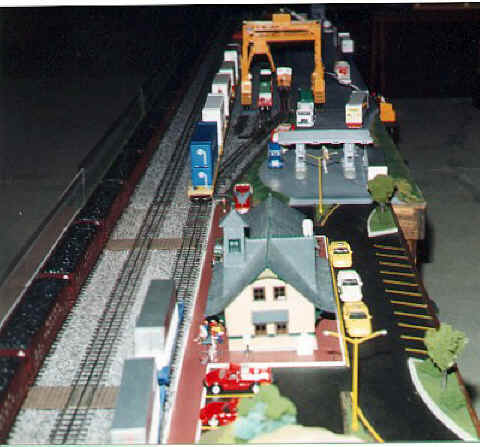 This is another view of the Intermodal yard with a Lionel Rico station in the foreground.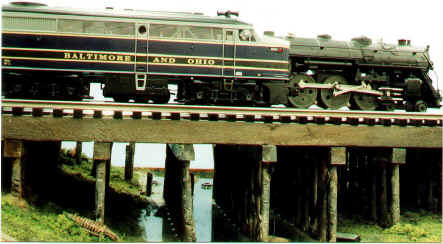 Ray Zelehoski's Williams B&O FA-1 and Jim Miller's repainted Lionel Hudson on Joe Sadowski's bridge module.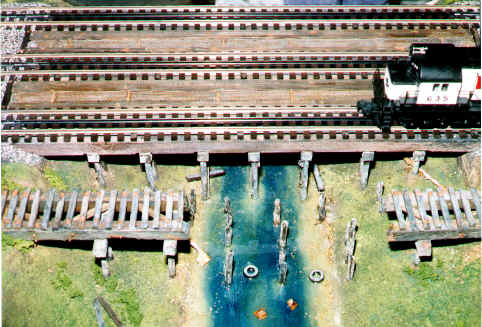 Joe Sadowski's awesome bridge module.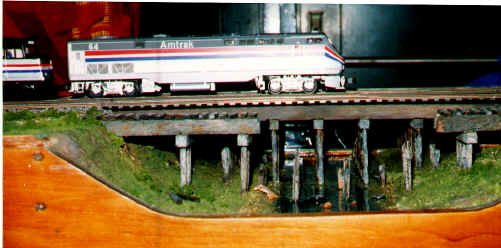 Here's a shot of Amtrak power hustling across Joe's bridge module.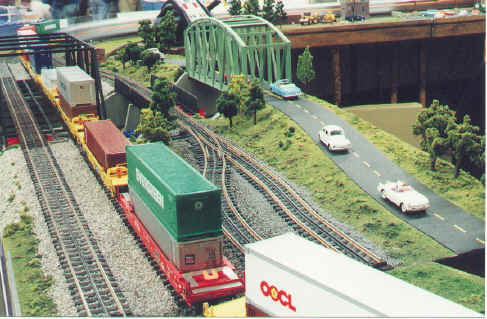 Jim Miller's three bridge module. Great modeling work Jim

The Packanack Train Club

By

Jim Barone

The Packanack train club of Wayne, NJ was organized by Jim Barone using the Independent HiRailers module specifications in the fall of 1997. The club has over 13 members and has its modular layout permanently set up at the Packanack Lake Community Club House in Wayne, NJ. For more information on the club please e-mail Jim Barone at

wooglinx@aol.com Below is a few photos of their modular setup.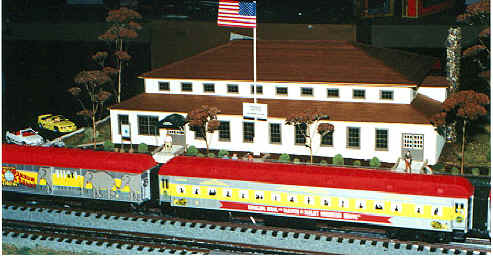 This is a scale model of the Packanack Club House.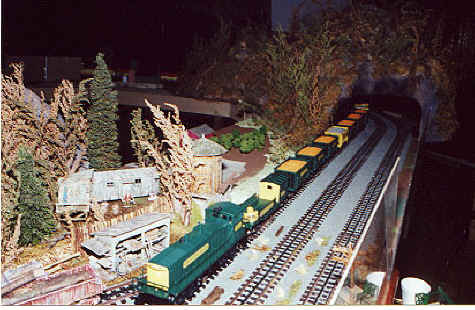 A freight has just passed through the 5-section mountain tunnel that sits upon one corner and straight modules.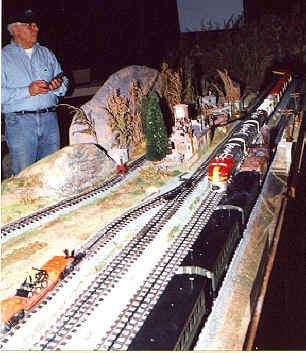 Here's Jim using Lionel's TMCC to move traffic pass a couple of sidings along the layout.
The Independent HiRailers
Midwest-Division
By
Frank Sanchez
This division of the Independent HiRailers was organized in the summer of 1995 shortly after I left Steve Horvath's group in New Jersey and moved to the Chicago area. Upon my arrival here I joined another group and some of the guys from that group were invited to my home to see the HiRail modules I had built. After visiting my home they decided that they would pursue HiRail modular railroading using the Independent HiRailers specifications. Since that time our group has grown and built many detailed modules that have won awards at NMRA and other train meets. We continue to detail our modules and strive for realistic modeling of railroad scenes. For more information about the Independent HiRailers-Midwest Division and photos please check the "Links" section for the link to our web site.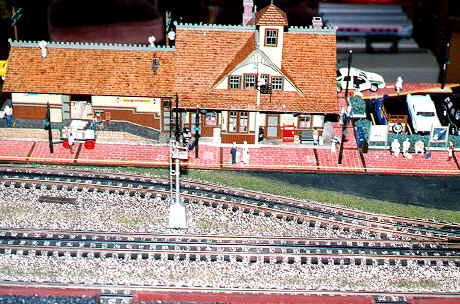 John and Joel Hastings a father and son modeling team beautifully detailed this Lionel Rico station , which won a NMRA award.

The Pittsburgh Area HiRailers

By

Thom Shepler

This HiRailer group was formed in March of 1998 by Thom Shepler, who received the Independent HiRailers module specifications and other information from Frank E. Qualls of the DC Area Independent HiRailers in January of 1998. We now have sixteen members and we are capable of setting up a HiRail modular layout of 16 by 40 feet with an eight track center yard that terminates into a 36-inch turntable with 29-track engine staging area. We are continuing to build modules and endeavor to scenic them realistically. For more information on our group please e-mail Thom Shepler at

woowoothom@aol.com Here are some photos of what we have accomplished to date.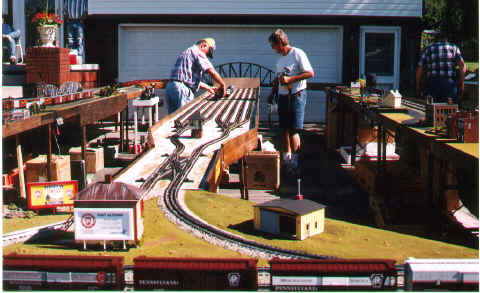 Group members are setting up the yard in the driveway of Jim's Train Shop in Homer City PA.

Here is an overall view of our modular set up.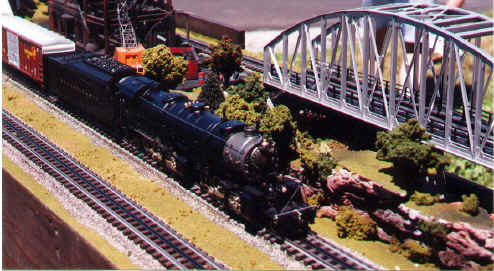 Thom Shepler's PRR Y3 is working its way across Jim Oravik's module.
The Northwest New Jersey HiRailers
By

George Petrie

In September 1998, George Petrie, Don Brill and Jim Miller organized the Northwest New Jersey HiRailers modular group using the Independent HiRailers specifications. Currently, this group has built 42 modules including an interior yard, which terminates into a turntable with roundhouse. Their plans include using three-dimensional scenery techniques normally seen on NTRAK modules such as scenic backdrops, hills above and rivers below track level. For more information on our group please e-mail Jim Miller at

jmillr19@bellatlantic.net Below is a few photos of our modules.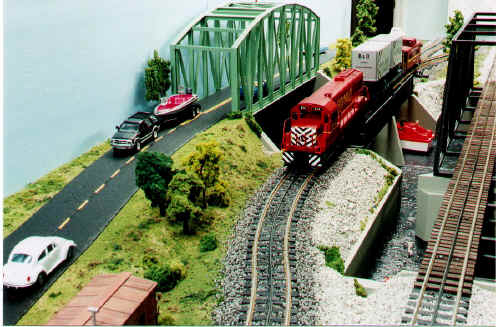 Jim Miller is a member of the new Northwest Jersey HiRailers. Here is another photo angle of his bridge module.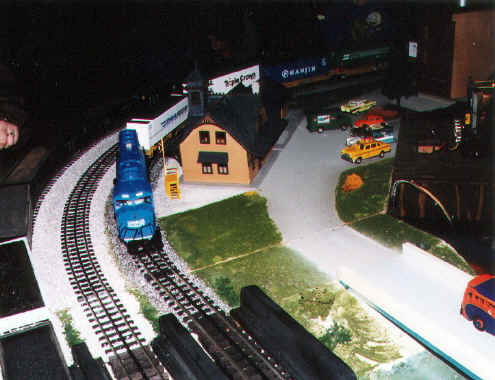 This is George Petrie's corner module with a Rico station and Angelo Bolio's bridge module.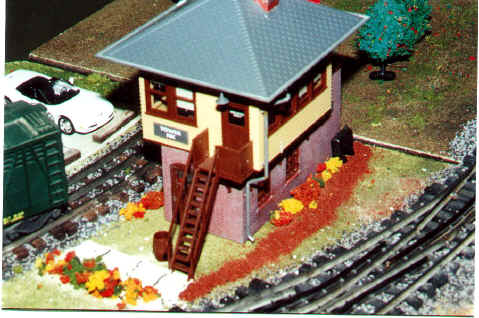 Ralph Heiss has the Atlas signal tower strategically positioned at a switch intersection on his module.
The Lehigh Valley HiRailers
By
Chris Finch
The Lehigh Valley HiRailers is a small, loosely knit group based in Allentown, PA. We do not have a permanent layout, but we meet in fellow participant's homes to operate trains on their layout's. When we travel to shows, we typically take 10 to 12 modules, which is enough to show spectators what can be done in O gauge without overwhelming them. Our modeling interests are primarily Eastern roads, with emphasis on those that were or are still present on the Lehigh Valley. These roads include naturally Lehigh Valley, Reading, Jersey Central, Erie Lackawanna, Delaware & Hudson, and present era Conrail, NS, and CSX. We also gladly run "visiting" and run-through motive power. In spite of our HiRail interests, we will (and have) run almost anything from post-war Lionel through the present. The tightest curves presently in use are 0-72, so we can operate just about everything that has been produced for 3-rail O gauge. For more information about our group please e-mail Chris Finch at Lehighhirail@entermail.net
Here is some photos of our modules.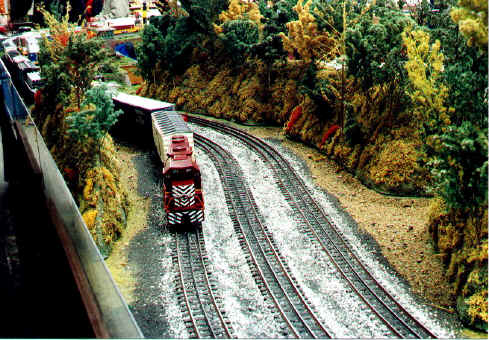 Jim Miller's Weaver Lehigh Valley GP38-2 with scale pilot and Kadee coupler snakes through Chris Finch's S-curve modules.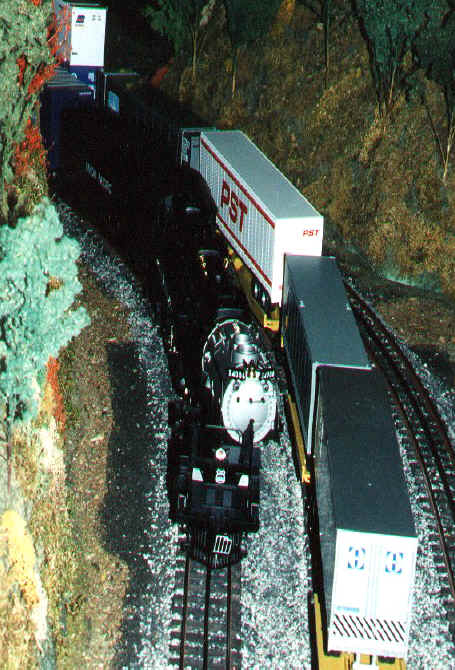 Bob House's (organizer of the Allentown Train Meet Associates) Lionel Big Boy takes its turn snaking through Chris Finch's S-curve module.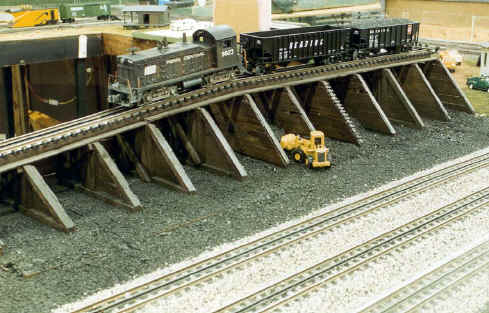 Here is a repainted Lionel 623 switcher in Penn Central, switching hoppers on the coal ramp.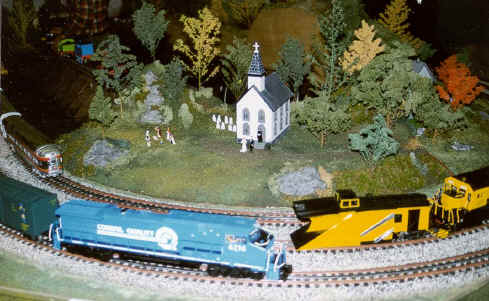 These are some custom painted samples by Chris Finch. The weathered church, and Conrail Dash unit are MTH, the other diesel is a Lionel and a kit bashed plow.
DC Area
Independent HiRailers
By
Frank E. Qualls
In May of 1997, I founded the DC Area Independent HiRailers module group in the greater Washington, D. C. and Baltimore area. This occurred after having participated and worked with the Independent HiRailers-Eastern Division, founded by Steve Horvath at train shows in New Jersey and Scranton, Pennsylvania. My first exposure to modular model railroading happened in 1989. This was at the Lionel Operating Train Society's (LOTS) National convention in Baltimore, Maryland where I saw Carl Person's Delaware Valley Tinplate Trackers modular layout. Upon seeing what the Delaware group was doing with modular railroading, I was not fully convinced that their modular railroading style was the way to go. However, in 1994 after seeing the Independent HiRailers modular layout I was sold on the concept of HiRail modular railroading using their techniques and specifications.

This group currently has active participants from Pennsylvania, Maryland and Virginia. Our schedule of shows includes locations in the Maryland and Virginia suburban areas of Washington, D. C. and Baltimore and its suburbs. Our mission is to publicly display our HiRail modular layout and to operate various manufacturers' HiRail trains to encourage and promote growth in the hobby. We love displaying our layout and expressing the joy and fun that HiRail model railroading can provide to hobbyists and their families.
Since becoming involved with HiRail modular railroading I have been actively helping others to start HiRail groups using the Independent HiRailers specifications. The Pittsburgh Area HiRailers is a group that I helped get started by providing them with the module specifications and other technical information. To learn more about the DC Area Independent HiRailers, please contact Frank E. Qualls by email at
fequalls@aol.com
Below are some shots of our modular displays at train shows.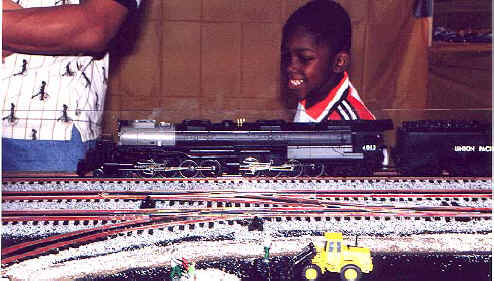 Here's Mike Frketich's UP Big Boy being admired by a Little Boy. Isn't this what the hobby is all about seeing the glowing smile on a child's face?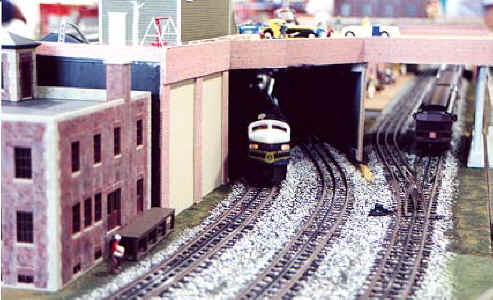 B & O E-8's exits behind the passenger station on Mike Frketich's four-module set passenger station.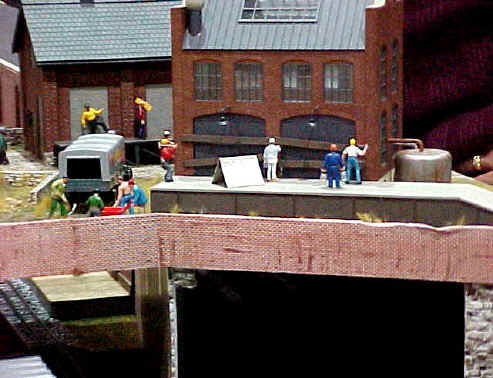 A work crew is busy working on the upper level of Mike's passenger station shutting down the old power house.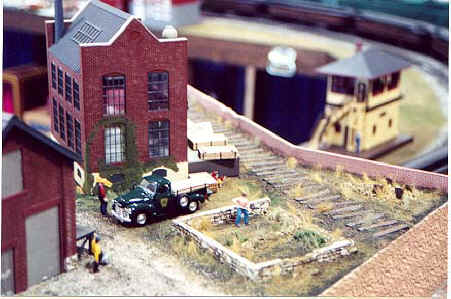 Here's another view of the old power house and it's busy work crew.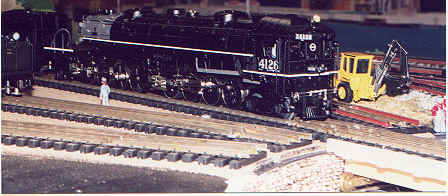 Mike's SP Cab Forward lines up with the turntable on Roy Aydelotte's turntable module.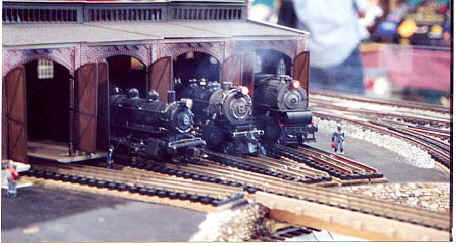 Here's plenty of Pennsy power building up steam in the roundhouse as they prepare for their turn on Roy Aydelotte's turntable.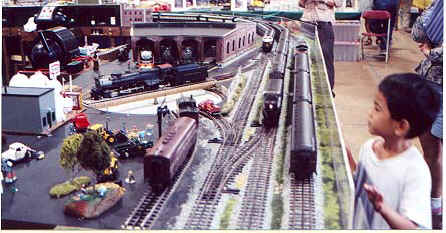 This is an overall view of Roy's 4 by 8-foot turntable and roundhouse module. The Little Boy is up front taking in all of the railroading action on this portion of the layout!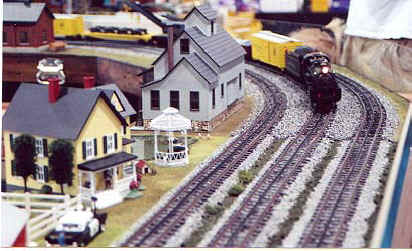 This freight train is leaning as it exits Mike's Super Elevated Super Wide Radius curves into June Aydelotte's modules.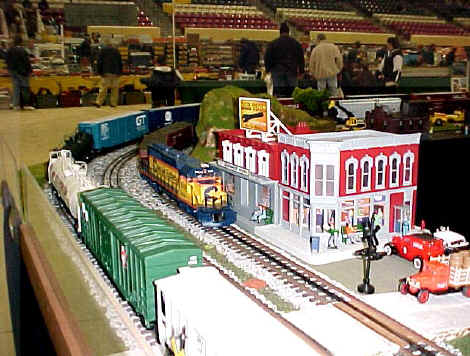 A Chessie SD40-2 passes by June's business area and railroad crossing scene on this module.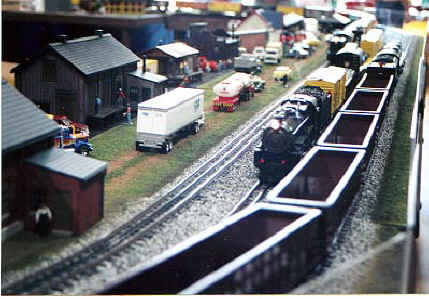 The mainline traffic is heavy on Frank E. Qualls' modules.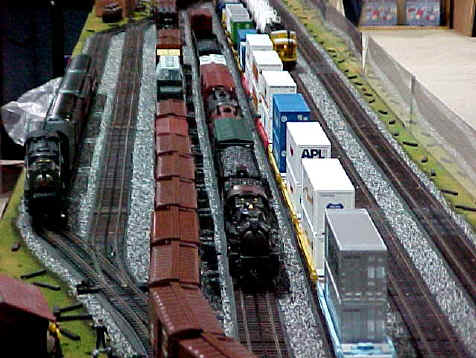 Frank's rail yard modules are always busy with rail traffic passing by and exiting the yard tracks.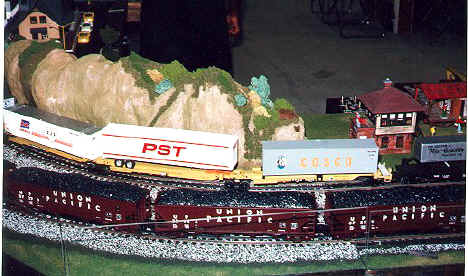 Frank's wide radius corners with a maximum track radius of 48-inches have made to fit mountains built upon a two-inch pink foam base. The mountains are formed from balled-up newspaper covered with hard shell surgical casting material. They were then painted and covered with various ground foam materials.
Independent HiRailers Logo
By
Frank E. Qualls
After founding the DC Area Independent HiRailers, a couple of years ago I began to search for an embroidery company I could work with to design a logo for our HiRail group. I found a small embroidery company named Stitch By Stitch located in Bowie, Maryland. Working with the owners, I designed the following embroidery logo for the DC Area Independent HiRailers, which is proudly displayed on our hats and shirts.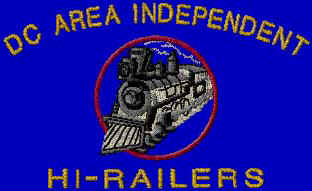 This logo has been freely offered to other Independent HiRailers groups around the country and the following groups have adopted it and proudly display it as their own.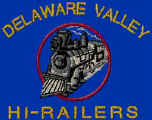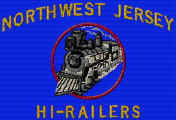 Carl Person, Founder Steve Horvath, Founder George Petrie, Founder

Embroidery
By
Stitch By Stitch
Bowie, Maryland
Email:

StBySt@aol.com
Telephone/Fax 301-262-7956